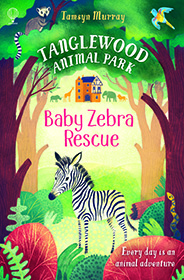 Zoe loves living at Tanglewood Animal Park!
Every day Zoe takes care of the animals. She splashes with penguins, feeds the lemurs - she even sees baby zebra, Flash, being born. It's a dream come true.
Then Flash goes missing. Now Zoe has to find him, and soon! Where can that baby zebra be?
'Perfect for animal lovers!' Paradise Wildlife Park
Read the first chapter for FREE!
Want to discover more AMAZING zebra facts? Look HERE!
Videos:
Moto the Lion at Paradise Wildlife Park

Tanya the Elephant at Colchester Zoo
Word Search